Armor Color Thermal Transfer Ribbons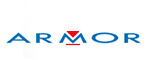 Colored thermal transfer ribbons are available in process colors and a variety of stock spot colors. Colored thermal ribbons are available in wax, wax/resin, or resin thermal ribbon formulations. Resin thermal transfer ribbons are sunfast and will not fade in sunlight for up to one year.
Our stock color thermal transfer ribbons are configured for "flat head" printers with 1 inch inside diameter cores and 984 lineal feet in length. Stock widths are 3.54 inches and 4.33 inches. The stock color thermal ribbons are usually ready for shipment within 1 business day.
When ordering, be sure to specify if the ink coating is WOUND IN or WOUND OUT. If you need a "near edge" ribbon, custom thermal ribbon size or configuration, you may use our Thermal Transfer Ribbon Price Estimator or contact us for a price quote. Custom sizes require a minimum order quantity of 24 ribbons and are ready to ship within 1 week.
Additional price discounts apply for orders of 100 thermal ribbons or more. Please call for a quote. All prices exclude shipping and handling. All orders of colored stock thermal transfer ribbons must be for full cases.
We offer Free Samples of thermal ribbons for testing, so you can be assured that the products you purchase from us will meet your needs.